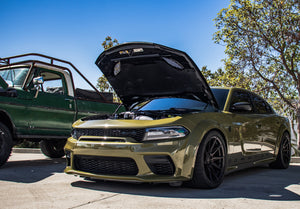 Proud Partner
Peitz Performance is no stranger to the Hellcat platform. Since its inception, Peitz Performance has been at the forefront of Hellcat tuning development starting with the Challengers and Chargers and now the TRX, Durango, and Trackhawk. In fact, Peitz Performance was the first to tune the Hellcat as well as set multiple records since then.
Peitz Hellcat Beat Travis Pastrana's Gymkhana Subaru
What does this mean for you?
You are getting the best of the best! Take advantage of the years of research and development with a Hellcat-specific tune available from the Stealth Performance team!
These Hellcat specific tunes can be done right from your home and are made to work on stock vehicles. You'll get everything you can out of your vehicle without a bunch of endless modifications. You won't end up with a 1,080hp Trackhawk but the power, throttle responsiveness and overall feel will be undeniable!
TDLR; You're getting the best Hellcat SRT® on the market backed by the best customer service from Stealth Performance Products.