Customer Reviews
Write a Review
Ask a Question
05/04/2020
02 Ford Crew 4X 7.3
She's definitely no show stopper, but I'm here to tell ya it can flat haul *** now. Quite impressed. DEFINITELY a good buy.
Anonymous
United States
10/30/2019
2002 F250
IT WOKE UP MY 7.3 LIKE I'VE NEVER SEEN. I TOWED A 21 FT TOYHAULER TO IDAHO AND BACK. I MUST SAY THAT I AM MORE THAN PLEASED. I REALLY LIKE THE RESPONSE IT GIVES THE PICKUP
James M.
United States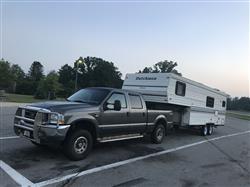 12/20/2018
Wonderful
I was very skeptical on buying this and almost didn't order it but I decided to give myself a Christmas gift and ordered it. I am very happy with it. My throttle response is awesome. My power is more than I coulda believed it could become and I improved my mileage on the highway by 1 mpg doing 75 or more the whole time. That's wonderful for a 2003 F350 with 7.3 and 294k on it. I'm very happy I ordered it and can't wait to see what it can do pulling my camper around the country the next couple years. Also I added it to already having a banks six gun is part of what made me more skeptical cuz I wasn't sure if it would have the effect cuz if already having a programmer. You can tell the difference when you turn the banks off also so one didn't eliminate the other. Couldn't have made a better purchase. Woke the old sleeping beast up wonderfully. Now time to set it on middle setting to see what difference I can get.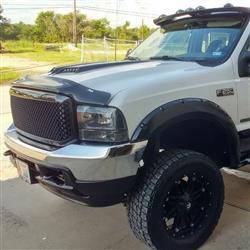 12/01/2018
Noticeable difference in low to mid power
It took 30 minutes to install. Most of that is running the selector switch in cab. Noticeable difference in low to mid power. Still too early to see about mileage gain. But overall a quick and easy way to boost the performance and power of my 2003 7.3L F250.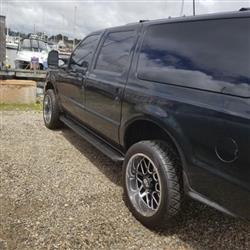 11/11/2018
2001 7.3 Excursion
First off ive never installed anything as easy as this product except an air filter. Extremely easy install. I am running this product on top of my Hydra tuner on a 140 tune. After initial install i drove the truck 180 miles from the event i was attending, i felt that the truck idles much smoother and mypedal felt alot smoother. My lie-ometer mpg calculated a 10mpg increase on the highway, 22 with my hydra and 32 with hydra and stealth module. When i got home just driving around i had an increase of 5mpg city driving. Pulling hills in 4th locked was much more tolerable as i had a little more low end power and i was less smokey. All in all i am impressed already. Only negative i have about it is a surging when im under very light throttle. I removed my tuner and used just the stealth module to see what gains i will have on a completely stock truck, that stock dead pedal is definitely gone and i noticed better throttle response. Hand calculated mpg was 21 mpg highway and 18mpg city unloaded. Hand calculated mileage loaded was 18-19 mpg cruising at 68 to 70mph and 15-16 in town. I was impressed with this moule amd would recommend to anyone!
08/12/2018
After having gone through 3 differant tunes I was ready to just give up on trying to tune my 2003 7.3 until I met Eric down in Daytona. We talked for awhile about how their tunes work and I was curious but of coarse nervous after what I've been through with other company's. We finally decided what the **** let's do it and we went through with getting their tune. Eric personally installed it within about 2 minutes. Instantly after that I felt a massive difference in power. The throttle response is incredible and I really could not be happier. I would recommend anyone with a 7.3 to get the stealth module. It's like nothing else! Can't thank the guys over at stealth enough!!
CM
Colby M.