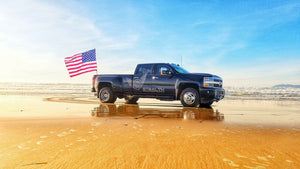 Mission Statement
Stealth offers an emissions-friendly solution to remediate the inherent lag which turbo diesel engines have by design.
Far too many diesel owners are under the impression that it is necessary to alter factory-set emissions systems and to override stock safety parameters to improve drivability. We at Stealth prove otherwise by offering a product which leaves the factory emissions system intact and stock safety parameters in place.
Customers contact us with the complaint that other trucks with lower advertised power figures offer them a better sense of safety at such times as when merging into traffic. By manipulating a couple of signals, the installation of our device taps into power that is readily available from a stock truck to provide better responsiveness. We take pride in the fact that we have been making it possible for diesel pickup owners to keep the factory emission settings on their trucks when using our safe, clean, easy, and reliable device. Our A+ BBB rating and positive reviews are evidence that we are successfully leading the diesel performance industry in the right direction.
As the automotive world pursues cleaner and more efficient power, Stealth is pioneering unique alternatives which are designed to meet present and future demands. Stealth is proud to be a contributor in this movement toward more efficient utilization of energy.
Eric Madrid - Owner
From a young age, Eric has had a love for all kinds of vehicles. Trucks, rust buckets, the quirky vehicles that no one else probably wants; they have all caught his eye. Before his oldest was born, he had a drive to create something that would allow him to support his family. Out of that drive and ambition came Stealth. He wanted to create a company that not only made great products but provided exceptional customer service. Eric still answers the phone and talks to customers every day! He prides himself in those invaluable connections. Outside of that, you can find him continuing to develop products and buying too many rusty old cars.
Deanna Ellis
Operations Officer
Instagram: @msdeanname
Deanna originally started working with us in 2017 as a contractor for operations consulting, marketing, and website design. This evolved into her being a part of the Stealth team full time. Now, she oversees the overall day to day business operations.
Drew McCullough
Social Media Marketing Director
Instagram: @adventurestang
Drew joined our team in 2022 and has gone above and beyond representing us on social media. If you message us on Instagram and Facebook, odds are you are speaking with him.